Archive for February, 2019
Thursday, February 28th, 2019
The Global Special Operations Forces (SOF) Foundation hosts an annual Symposium in Tampa, FL to convene the SOF and defense community; the March 5-7, 2019 event will feature leaders from the global defense community.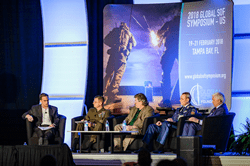 TAMPA, FLA. – FEBRUARY 27, 2019
The fifth annual Global SOF Symposium – US will bring together the Special Operations Forces (SOF) focused community in a collaborative and educational environment. This fifth iteration brings in exciting new speakers and topics, including leaders from the U.S. Special Operations Command (USSOCOM), international SOF units, and thought leaders in the defense community.
The Symposium agenda features a variety of topics, including six confirmed Keynote Speakers:
Vice Admiral Tim Szymanski, Deputy Commander of U.S. SOCOM
Mr. Emerson T. Brooking, Author, LikeWar: The Weaponization of Social Media
Dr. Lisa Costa, the Director of Communications Systems and Chief Information Officer (better known as the J6 Directorate) for USSOCOM
Major General Maria Gervais, Deputy Commanding General, U.S. Army Combined Arms Center – Training
The Honorable Jim Locher, Former Assistant Secretary for Special Operations and Low-Intensity Conflict, U.S. Department of Defense
Mr. James F. McDonnell, Assistant Secretary, Countering Weapons of Mass Destruction Office, U.S. Department of Homeland Security
Additionally, the Honorable Jim Locher will be receiving the GSF's Lifetime Achievement Award on March 6th during the Symposium General Session. This award honors individuals who have made an impact on the joint SOF community.
The Symposium will also feature a range of panel discussions, all of which include subject matter experts in their fields:
Innovation in Modeling, Simulation, and Training
The Operator's Kit: Equipping the Operator
SOF Training Standards for Multinational Operations
The Nexus of Law Enforcement in Modern Warfare
These speakers from across the defense spectrum will make these sessions especially informative and educational.
The Symposium opens on March 5th with Professional Development and a Welcome Reception. There will be four concurrent sessions featuring a broad range of topics to appeal to all attendees. All of these sessions are free with a full Symposium registration, but participants may also purchase a single-day pass as well.
All of the Symposium events will take place at The Grand Hyatt Tampa Bay for the first time in its five years. Conveniently located near Tampa's international airport, this waterfront venue provides ample opportunity to conduct business, build relationships, and learn–all while enjoying Florida's beautiful spring season.
The event host is the Global Special Operations Forces (SOF) Foundation, the only professional association for the international SOF community. This three-day Symposium is the Foundation's flagship event and will also feature networking opportunities and two different expo spaces for industry participation.
Don't miss this rare opportunity to join the global SOF community in Tampa, Fl., from March 5-7 2019. Register today at bit.ly/19GS-Register.
——————
The Global Special Operations Forces (SOF) Foundation (GSF) is a 501(c)(3) non-profit organization that aims to build and grow an international network of military, government, commercial, and educational stakeholders in order to advance SOF capabilities and partnerships to confront global and networked threats.